Ahoy!
Just wanted to pop in and give a brief update on some things since I kinda dipped after dropping DotM: Overtime. I'm continuously blown away by the response, and happy to see people coming back to the series after so long. A theme I'm seeing in comments/reviews is anticipation for another installment so I guess I'll just talk about that real quick. Right now, I do not have any solid plans for what is to come next. I have so many ideas for prequels and sequels at this point, as well as other episodes set in the same universe but looking at the outbreak from different angles. I've got one idea that may end up being its own spin-off series (I say series because the story itself would easily be close to an hour or possibly longer.) I still need to let these ideas marinate in my brain to see how I feel about them before deciding what to tackle next, but besides that, I still have some paintings I need to finish up.
Upon completion of DotM: Overtime, I resumed full-time hours at my day job, and almost forgot how draining it was. Our company gave us the option to take a month and a half off back in March, then I steadily cut my hours down to less than 20 a week once I came back before finally only working one day a week for the last bits of August and September. That initial time off in Spring was exactly what I needed to kickstart the completion of Overtime, but in retrospect, I could have used a few more days. I have some bills and other things I need to catch up on, as well as saving up for a potential move next year, so this is okay for now.
I made an attempt at Inktober this year, but kinda fell behind on a few days which ended up snowballing into the entire month. I had fun drawing what I did, but didn't stress too hard about it. Besides, I had a long list of video games I was itching to play once I finished Overtime. (I took a break from video games in order to focus on OT's completion.) So I played through like five Zelda games, almost the entire Silent Hill series (I played the first three at least twice in this past month,) and also good ol' Left 4 Dead 2 that recently received an epic update.
I had some extremely gnarly family shit that happened a few weeks back. I don't really want to go into detail on that one, but it successfully re-vitalized years of turmoil and abuse I was trying extremely hard to avoid thinking about as a grown adult with my own home, job, and life. Let's just say that it solidified my decision to remain sober (going on eight months!) It definitely shook my already unstable mental health, but I'm thankful for the network of support and resources those around me have been able to provide. It may have rubbed my motivation the wrong way, but just as in the past, all of this dread will be converted into units of energy for future projects and endeavors.
On the note of future projects and endeavors, I'm putting the finishing touches on a painting of a scene from Silent Hill 2, not the most exciting of my portfolio, but it means a lot to me. I've been filming and photographing progress that I intend to compile into a "making of" video. I have over four hours of footage at this point, so that should be fun combing through! No clue when the video would be out, but the painting should be finished before the end of the year. I've got another more abstract piece I'm working on, and a possible painting collaboration. I'm also planning on recording commentary tracks for Dawn, Day, Dusk, and Overtime. Overtime itself may see a slightly re-cut ending in the near future. I'm not going to George Lucas anything, but may just add in a few extra shots to smooth out the ending. There was also more I had intended to do with the credits sequence.. Stay tuned for more info on that.
I'm trying to get my Youtube account re-monetized but that's looking somewhat grim at this point. I'm really hoping I won't have to make a second channel. I've also considered making a Patreon or something along those lines as I try to transition to a means of supporting myself that is much more in-line with my passions. Does anyone have any recommendations or tips for such things?
Finally, I'll leave you with one of my Inktober drawings, a self portrait!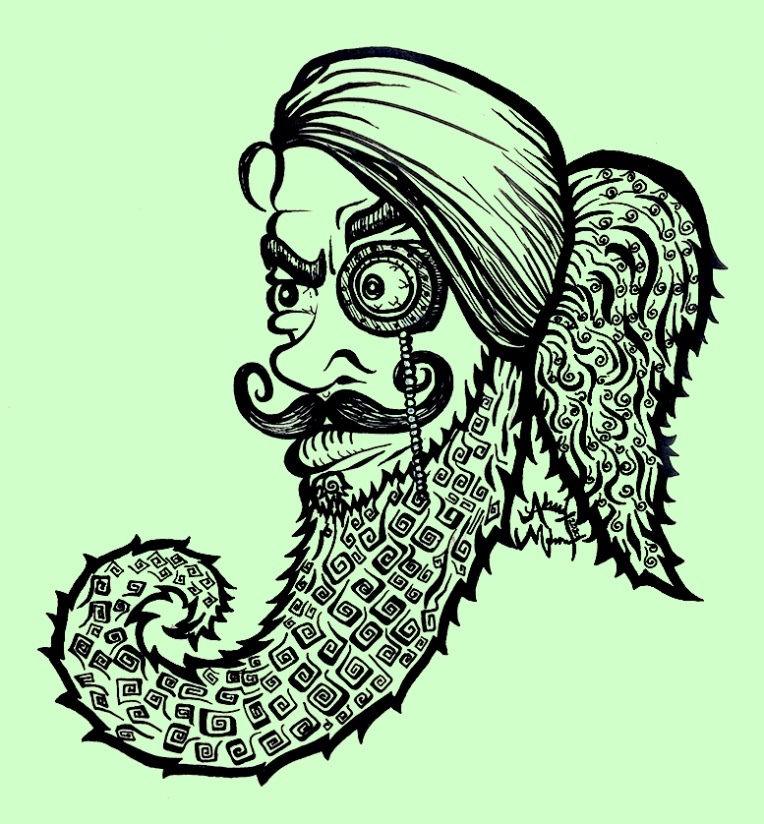 PS- Thanks for the birthday wishes!