Greetings!
I just recently completed a painting that I've been working on for over a year and a half. I originally sketched the idea over six and a half years ago, back in 2012. It was at that time that I was finally beginning to figure out how to add color to my drawings, so I told myself that whenever I deemed myself decent enough at painting, I would take on the challenge that would be a full-sized, full colored, oil painted version of this: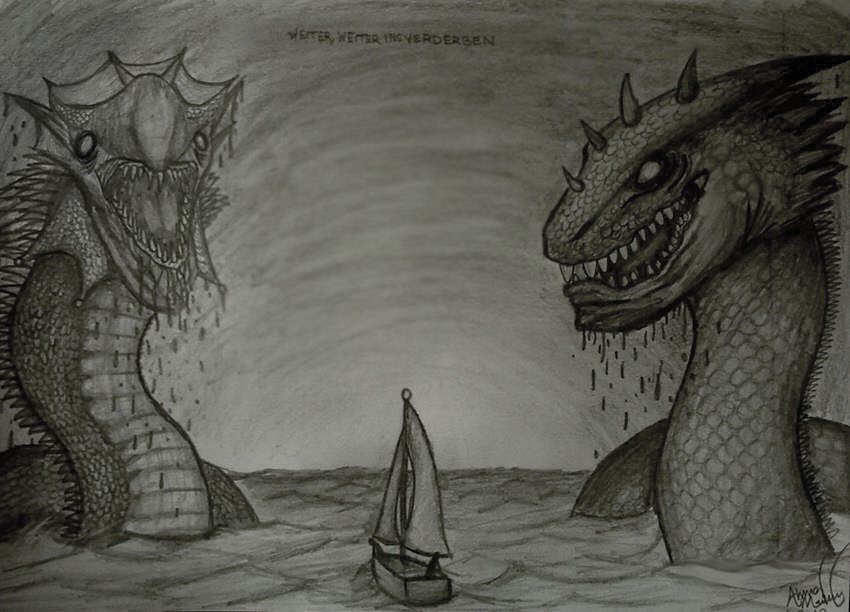 With this guy, it was a matter of practicing and waiting for just the right time to dive in. One day, I just felt ready. I hopped on my bike, rode to the nearest art store, and picked up the biggest canvas that I could possibly carry. I used bungee cords to strap the canvas to my body, and fought strong headwind back home. Over the course of a year and a half, the final painting went through many different faces- I repainted the water four times, I repainted the sky twice, added multiple layers to the serpents, and repainted the sailboat three times. Between a full-time job and multiple other art projects and life happenings, I have absolutely no clue how many hours were put into the painting. Naturally with it being an oil painting, I would sometimes have to wait a few days or weeks for sections to dry. 
"Art is never finished, only abandoned." - Leonardo da Vinci
Looking at what I chose to call the finished product, I see some things that conflict with the idea that this painting should be a more realistic-looking fantasy painting. I see opportunities in shading, and perhaps a few opportunities in the water, but with what I already have, it feels complete to me. However, this is definitely not the last of my nautical, sea monster themed pieces. This painting has taught me a lot, but I definitely still have a long way to go. It feels good to close this chapter.
In other news, in case anyone missed my previous post, I got a new (used) computer that is doing pretty good so far. I made the most exciting discovery that Flash CS6 can open Flash 8 files and started doing a thing: